Wedding Brunch Menus
Levan's Catering is passionate about food and presentation which translates to planning creative menus for weddings from; beautiful brunch menus with chefs action stations, dinners and cocktail receptions. Levan's starts with the fundamentals of traditional cooking and is inspired by the cuisines and customs of Europe (including France and Italy), South America, the Mediterranean, Asia and the United States.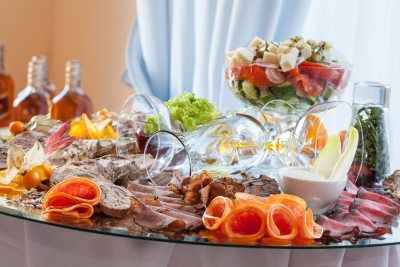 Today, Levan's Catering offers the latest, newest, and innovative fresh ideas for your wedding brunch menus. Our wedding reception ideas, together with our truly magnificent food and presentation are just one more reason we are referred to year after year by families, event planners, and corporations alike. At Levan's Catering, we believe anything is possible. Let us help you plan your wedding to create the statement and or memories you want. Levan's has many years of experience in delivering high-quality wedding catering throughout Orlando and the Central Florida Area. Whether you have already selected a location or would like us to help you find the perfect wedding venue, our menus and services are designed to give you great choice and flexibility in the style of food that you choose.
The process begins with a 1st consultation and taste based on the information provided to us through the initial inquiry. After that, you will receive your 1st draft of contract which will be tailored to suit individual requirements and will detail a menu suggestion along with a clear breakdown of all additional costs. The next step would be to arrange a walk through preferably at your chosen wedding venue, which will give us an opportunity to determine access, layout and venue facilities. As a specialist marquee caterer, we can work in many different and difficult environments and guarantee that whatever menu you choose, it will be presented to our exacting standards. Brunch Wedding Menus